In our previous article, we learned in detail about the SWOT analysis of Lidl. In this article, we are going to extensively study the marketing strategy of Lidl – a famous international retail chain company.
In this blog, we hope to make you understand the transition of Lidl from a single grocery wholesaler store to becoming an international retail chain company.
Also with rapid growth and extension, everything is going digital. So is the case for marketing as well. We know that marketing plays a vital role in making a company, brand, or product famous and now it has also gone digital. Therefore if you want to learn about digital marketing and excel in its skill, we have got your back with IIDE's Free MasterClass on Digital Marketing 101 by our Founder and CEO, Karan Shah.
We will cover the marketing strategy of Lidl in detail in the upcoming section of the blog.
About Lidl
Operated over 12,000 stores across Europe and the United States, Lidl – the part of Schwarz group is one of the international discount retail chains that originated in Germany. Founded in 1932 with the name Schwarz-Markt by Josef Schwarz it partnered with Lidl & Co. with the purpose of developing the company into a general food wholesaler which was previously a fruit wholesaler.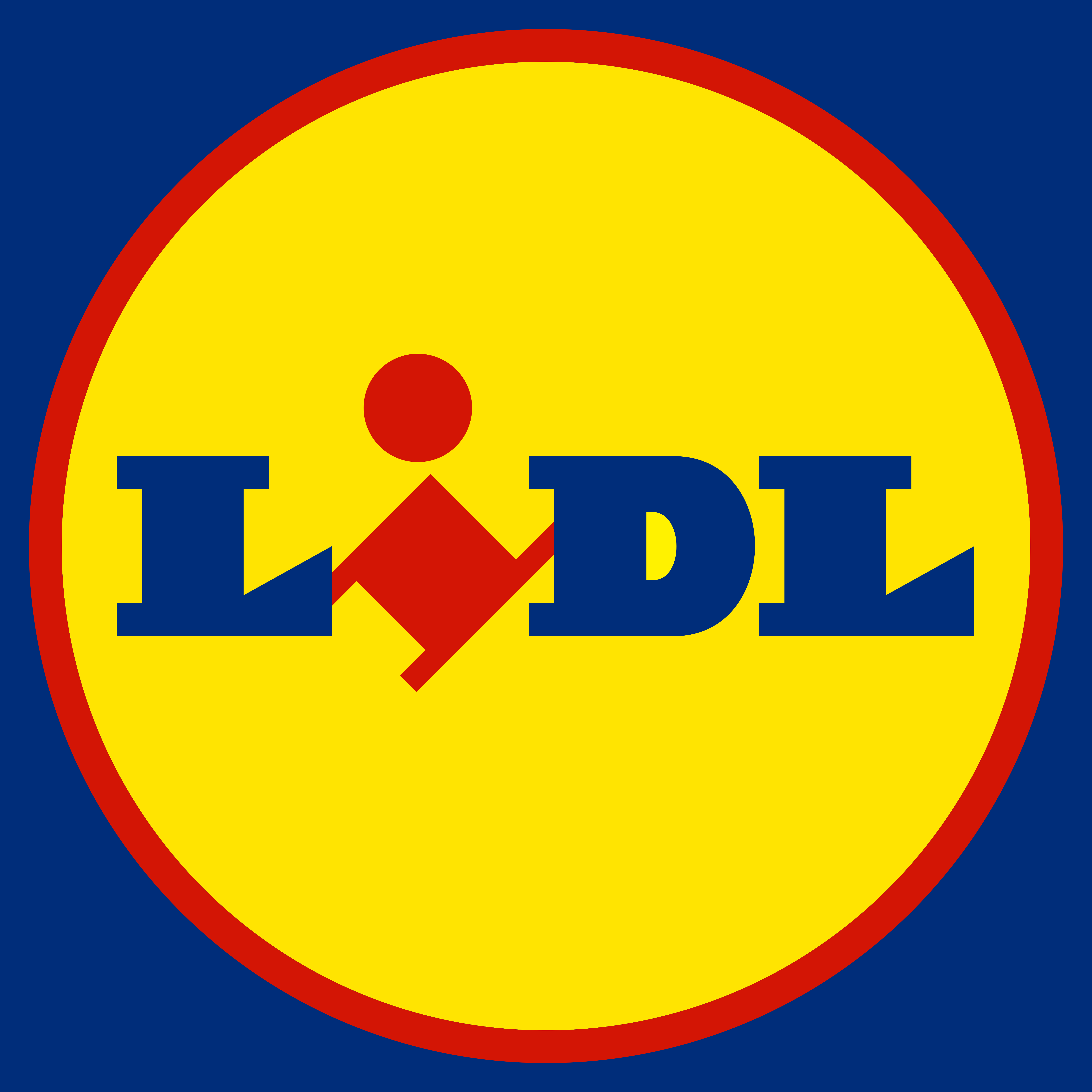 Later on, in 1977, Josef Schwarz's son Dieter Schwarz did not agree to use the name Schwarz-Markt because of the meaning of the name which is "Black Market". So, he decided to use the name of his father's former business partner. This is how Lidl got the name Lidl.
Quick Stats on Lidl

| | |
| --- | --- |
| CEO | Ryan McDonnell |
| CMO | Kristina Mažeikytė |
| Area Served | European, United States, United Kingdom, Switzerland, Serbia |
| Industry | Retail Chain Company |
| Market Share/ Revenue | U.K.: 6.4%, Europe: 7.5% |
| Vision | To enhance the lives of our customers, by providing quality products at a market-leading value, whilst ensuring that customer satisfaction is at the heart of everything we do. |
| Tagline | High quality. Low prices. It's quite simple. Big on quality, Lidl on price. |
What's new with 'brand'
A Swiss court has ruled in favor of Lindt, ordering Lidl to cease production of chocolate bunnies.

 The Federal Supreme Court found that the rabbits in Lidl's products were too similar to those in Lindt and Sprüngli's products, whether wrapped in gold or in a different color aluminum foil.

Lidl recalls popular Paw Patrol snacks because of the inappropriate message:

All Paw Patrol packs come with a website address that directs parents to go to the website so that parents can relax while their children play with their favorite Paw Patrol characters.

Lidl shows level to United Kingdom's biggest grocers: opens £300m super warehouse.

Lidl has unveiled its new £300 million distribution center in Luton, making it the UK's biggest distribution center (DC).
Lidl's new regional distribution center (RDC), based in Bedfordshire, will cover an area of 1.2 million sq ft and will be half a kilometer long. The new RDC will be able to handle 150 of Lidl's stores and is expected to create a further 1,500 jobs.
Lidl achieves 'new record' market share:

Lidl reported a 22% rise in sales year-on-year, with both discount grocers, opening new stores across the UK.
User persona
Buyer's Persona
Motivation
Affordable Price.

Ordering in a few clicks.

Fresh Product. 

Good Quality Products.

Outstanding customer service.
Interest & Hobbies
Reading

Playing football

Watching IPL

Shopping

Trekking
Pain Points
Filthy plastic trolley baskets.

Sometimes the app doesn't work.

Stock Availability.
Social Media Presence
Instagram

Facebook

Tinder

Pinterest

Youtube

Twitter

LinkedIn

Snapchat
Marketing Strategy of Lidl
Lidl's marketing strategy is a low-price strategy that aims to provide a hassle-free shopping experience to its customers, with an extremely simple store layout.
Segmentation:
The market of Lidl has been segmented using the psychographic segmentation strategy or psychological segmentation technique. It means it focuses on customers who are price-conscious, have a limited budget, and choose to buy products of poor/mediocre quality.
Lidl knows that in this sector which is based on quality and brands, the segment is not loyal and is only attracted by promotions, new products, and offers which makes it difficult to retain them in the long run. They only contribute to the sale of products for the short term.
Target:
The targeting strategy used by Lidl is an undifferentiated strategy that plans to take over the market globally. The procedure of making the product is the differentiator for Lidl. The low-cost pricing strategy along with quality products helps in attracting customers to its stores. The approach of Lidl toward Its target audience is of zero waste, no-frills "pass-the-savings-to-the-consumer" by displaying most of its products in their original delivery cartons, which allows the customers to take the product directly from the carton.
Positioning: 
The store Lidl can be found at almost all the popular places for grocery shopping. The strategy of Lidl to keep low prices and quality products is a good ELDP. In this way, it ensures that the demand is steady. It has been proven that positioning strategy has a significant impact on business performance. It's good to have your business positioned at places where your target audience is active and it has been proven by Lidl.
Digital Marketing Strategy of LIDL
Lidl uses digital marketing as an integral part of its strategy to engage with customers, promote its products, and enhance its brand presence. 
Engagement on Social Media

: Lidl actively maintains a strong presence on popular social media platforms like Facebook, Twitter, Instagram, and LinkedIn. Through these channels, the company does more than just advertise products; it interacts with its audience, responds to inquiries, and encourages discussions. By fostering a sense of community and engagement, Lidl keeps customers informed and involved.

Email Marketing: Lidl employs email marketing campaigns to directly connect with its customers. Subscribers receive regular newsletters containing updates on upcoming sales events, new product launches, and exclusive discounts. This approach helps keep Lidl at the forefront of customers' minds and encourages them to visit stores or shop online.
Mobile Apps for Convenience

: Lidl offers dedicated mobile applications for both iOS and Android users. These apps serve as a digital extension of the in-store experience. Customers can use them to access a variety of features, such as browsing weekly specials, creating shopping lists, and accessing digital coupons. The apps enhance convenience and encourage repeat business.

Strategic Online Advertising: Lidl invests in various online advertising channels. This includes paid search advertising (such as Google Ads), display ads on relevant websites, and partnerships with digital platforms. By strategically placing its ads online, Lidl increases its online visibility and attracts potential customers to its website and physical stores.
Marketing and advertising Campaigns
Big on quality 

TV Ad | Big On Quality For All | Lidl GB
It is about the quality of products offered at a low price by LIDL. This ad was successful for its eye-catching tagline "Big on Quality" and "LIDL on price". Lidl from this advertisement is trying to express that the products from different categories they sell are big on quality and Lidl on price or price effective. The advertisement appealed to the Youtube audience and the video got more than 48k+ views.
#Lidl Christmas
Lidl launched its campaign for the first time on digital platforms rather than on TV due to the pandemic in 2022. The campaign was launched on Twitter which created a sensation in the market.
The campaign became successful because Lidl fostered exclusivity by sending reminder tweets the day before the campaign was launched which made the users of Twitter curious to know about the campaign.
#LidlSurprises

#LidlSurprises: Our Saint-Emilion Grand Cru wine
4-6 years ago Lidl conducted a series of campaigns in which the brand was seen promoting various food and beverage items that are sold under the brand name Lidl. The hashtag used to make the advertising campaign popular was #Lidlsurprises.
#Lidlsurprises campaign became popular due to its authenticity, consistency, human factor, and experiential marketing. And it continues to surprise us with its every campaign.
Top 5 Competing Companies
Example of a Failed Campaign Or Backlash from Viewers
Lidl in Norway Campaign:
When talking to a Norwegian about Lidl, most people will have a strong opinion about the company. Some will tell you that Lidl was a positive contributor to the Norwegian grocery market, because of their low prices and "exotic" products.
Some will tell you that they never shopped there, because they didn't want to support a foreign company that ignored the labor unions, built large and unattractive buildings in their towns, only had unfamiliar food on the shelves, and sent the profit out of the country. If you ask Norwegians why Lidl failed in Norway, many will argue that Lidl did not fulfill the Norwegian shoppers' needs and did not fit in with their values.
Reasons for failure:
Inadequate market analysis:  Lidl's failure to identify and react to the most critical pitfalls in an effective way. All the Norwegian import regulations are publicly available, and they should have been able to foresee the effects on their business. A thorough analysis of the effects of these regulations could have given Lidl an indication to focus on other European areas.
Government regulations affect product strategy: The first, and probably most significant factor is the fact that Norway and Norwegians in many ways differ from the other cultures where Lidl operates. Norwegians not only seem to have a different mindset when it comes to buying behavior, but they also tend to protect their own resources as well as their way of life through governmental import regulations.
This ends the elaborative marketing strategy of Lidl. Let us conclude our learning below from the marketing strategy of Lidl.
Conclusion
Lidl is the best among grocery retail chain companies, be it in terms of products, services offered, quality or cost, etc. Over the years it has grown to become a giant in the market of US, UK, European, and German retail companies.
Lidl's ways of promoting itself are unique as can be seen from its popular tweet of #Lidlchristmas. Its campaign #Lidlstudio has also been gaining popularity and attracting customers. Lidl has incorporated digital marketing in a commendable way. Its marketing largely depends on digital platforms and through this case study, we can comprehend that there is a balance between organic and paid digital marketing campaigns for the company.
Digital marketing is crucial since it links a company with its clients when they are online and is effective across all sectors. It links businesses with ideal consumers through SEO and PPC on Google, social media marketing, and email marketing. If you would like to learn more and develop skills, check out IIDE's 4-Month Digital Marketing Course to learn more.
Alternatively, you can enroll in one of our free online masterclasses led by IIDE's CEO, Karan Shah, to gain insight into the field of digital marketing. We hope this blog on the marketing strategy of Lidl has given you a good insight into the company's marketing strategies. If you like such in-depth analysis of companies just like the marketing strategy of Lidl check out our IIDE Knowledge portal for more fascinating case studies.
Thank you for taking the time to read the marketing strategy of Lidl, and do share your thoughts on this case study marketing strategy of Lidl in the comments section below.  If you want to have a look at the case study of the D-mart brand, here you go.